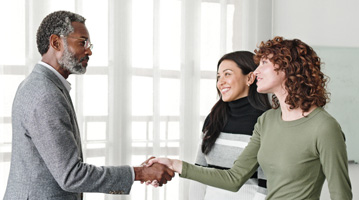 Proving once again that it's a leader in providing exceptional retirement plan service, Nationwide® earned the 2023 Customer Experience Excellence Award from DALBAR, an independent financial auditing and ratings organization.
This is the 4th consecutive year in which Nationwide was recognized by DALBAR with this distinction as a "customer service powerhouse."
"Earning this recognition from DALBAR affirms our ongoing commitment to plan sponsors and participants delivered by our superior team and innovative technology," said Eric Stevenson, President of Nationwide Retirement Solutions. "As retirement savers weather the impacts of market volatility and inflation, we remain committed to delivering award-winning service and support for our customers in whatever way they prefer to work with us."
Nationwide's eligibility for this award was driven by excellence in service delivered by the company's retirement contact center, private-sector web portal, public-sector portal, mobile apps and websites. All of these interactions met or exceeded DALBAR's stringent award criteria during a yearlong audit.
"Top of mind for Nationwide is ensuring that regardless of the path taken to connect with the firm, the result is a delighted customer. This is evidenced by the laser focus on making ongoing improvements to the already highly positive service experience," said Shelley Eramo, director at DALBAR.
In an increasingly digital world, collaboration with partners from the Nationwide Technology team helps Nationwide Retirement Solutions continue to provide a smooth customer experience. Whether helping participants monitor their progress toward meeting retirement goals or simplifying a complex topic through a digital tool, technology capabilities enable efficient connections.
This award closely follows Nationwide winning DALBAR's 2022 Plan Participant Service Award for phone service for the 9th consecutive year. Nationwide Retirement Solutions administers nearly 32,000 retirement plans, helping protect more than $165 billion in participant assets as of Dec. 31, 2022, and helping secure financial futures for over 2.7 million participants in the governmental 457, corporate 401(k) and not-for-profit 403(b) markets. Nationwide is committed to serving the retirement industry by doing the right thing at the right time through better participant experiences, administrative simplicity and values that translate into service.