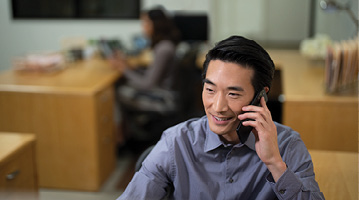 As the COVID-19 pandemic progressed, Americans faced unprecedented uncertainty, volatility and in many cases, fear. For many, that meant picking up the phone to talk to their retirement plan provider, asking for consultative support and even considering making changes to their long-term financial planning strategy.
DALBAR, a financial services market research firm, announced that Nationwide Retirement Solutions has earned the 2021 Plan Participant Service Award for outstanding phone support for retirement plan participants. This is the 8th consecutive year in which Nationwide was recognized by DALBAR with this distinction.
"Earning this recognition from DALBAR for the 9th consecutive year is a testament to how our values translate to service, demonstrated by our ongoing commitment to helping plan participants reach their retirement goals," said Eric Stevenson, president of Nationwide Retirement Solutions. "Our associates are best in class on being accessible to plan participants when they need us most to provide the best guidance, even in moments of fear or uncertainty. The tireless efforts of our operations team, led by Wendy Shaw, and our internal sales and service team led by Kevin Jestice, for their outstanding support to our plan sponsors and their participants, especially during the ongoing pandemic, are applauded."
To earn this prestigious DALBAR award, companies must undergo a thorough and independent year-long audit that looks at the quality of contact center interactions. Award eligibility is determined by a review of actual customer interactions against detailed criteria based on superior service standards and industry best practices.
DALBAR's criteria cover all aspects of the customer experience, including both the interpersonal relationship and the transactional elements.
"The quality of the service that participants receive when they call their retirement plan provider is always important, especially over the past 2 years with the uncertainty related to the pandemic and the financial hardship faced by so many Americans," says Brendan Yeager, director of DALBAR. "Nationwide rose to the challenge, providing the same world-class service that their customers have come to expect."